History of the Morningside Inn
The Morningside Inn is a family owned business located in Frederick Maryland.  Roger and Jeanie Cochran purchased the 300 acres in the late 1970's.  In the early 1990s, the Cochrans' located their home here and began construction of the Morningside Inn.  Roger and his son, Brett, worked together to renovated the historic building located on the property, which was built in the 1900's, to the grand elegance of the Morningside Inn. The original heavy wood structural beams accent the interior decor throughout the Inn. The post and beam construction and craftsmanship used in the Inn's transformation will fascinate architectural buffs.  In 1995, Roger, Jeanie, and Brett Cochran opened the Morningside Inn as a wedding, banquet, and corporate event facility.
Meet the Wonderful Morningside Inn Team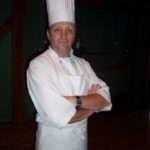 Tim Erfourth – Head Chef 
Originally from Wisconsin, Tim started working in professional kitchens in 1978 and in 1981 started a 3 year Chef's apprenticeship graduating in 1984. He moved to Maryland and served as Executive Chef in several area hotels and restaurants such as the Kennedy Warren Restaurant in Washington DC, Cornucopia Catering in Frederick, and Montgomery Country Club in Laytonsville.  Since 1995, Tim has been delighting guest at Morningside Inn with his delicious meals.  Tim refuses to cut corners in the kitchen, every meal is made from scratch with only the freshest ingredients.  At his request, an herb garden was planted at Morningside and guest often witness Chef Tim picking fresh herbs for their dinner.  Tim is married with three children.  He enjoys restoring his classic Mustang, Model Railroading, and Music.
Teresa Martin – Office Manager
When you call Morningside Inn during the wee, it is Teresa's pleasant voice you will hear.  In addition to keeping the staff and office organized, Teresa coordinates corporate and special events.  When she is not in the office, Teresa is pursuing her love of God and music by teaching piano and voice, directing a church choir, and performing anywhere she gets the opportunity.