History of Morningside Inn
Morningside Inn, a Maryland retreat center, is a renovated bank barn dating to the early 1900s and is a showcase of historic structural renewal. The barn's original heavy wood structural beams accent the interior decor throughout the Inn. The Amish-style post and beam construction and craftsmanship used in the Inn's transformation will fascinate architectural buffs.
The surrounding 300 acres of fields and forest are yours to enjoy. Nature becomes the focus for all who take the time to visit here. A special wonderland is created by the rolling hillsides and woods. Migrating geese and Great Herons often pause in their flights to wander the banks of our ponds, and deer and other native wildlife are often seen in the fields surrounding the Inn.
This property was originally a dairy farm that was exchanged throughout the years until the Cochrans purchased it in the late 1970s. Numerous years passed as the farm was transformed into a thoroughbred racehorse breeding facility. In the early 1990s, the Cochrans located their home here and began construction of the Morningside Inn, which opened for business in 1995. Numerous additions and alterations have been made over the years to provide a first-class banquet and conference facility, making it a welcome alternative to a hotel in western Maryland.  Weddings and receptions became the main events to be held here, and the Inn has evolved into one of Maryland's finest wedding locations. The Cochrans are still managing the Inn.
Meet the Morningside Inn Team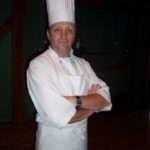 Tim Erfourth – Head Chef 
Originally from Wisconsin, Tim started working in professional kitchens in 1978 and in 1981 started a 3 year Chef's apprenticeship graduating in 1984. He moved to Maryland and served as Executive Chef in several area hotels and restaurants such as the Kennedy Warren Restaurant in Washington DC, Cornucopia Catering in Frederick, and Montgomery Country Club in Laytonsville.  Since 1995, Tim has been delighting guest at Morningside Inn with his delicious meals.  Tim refuses to cut corners in the kitchen, every meal is made from scratch with only the freshest ingredients.  At his request, an herb garden was planted at Morningside and guests often witness Chef Tim picking fresh herbs for their dinner.  Tim is married with three children.  He enjoys restoring his classic Mustang, Model Railroading, and Music.
Teresa Martin – Office Manager
Email: info@morningside-inn.com
Teresa has been the office manager since 2010.  She plans and coordinates all corporate meetings, banquets, and special events.  She will be able to help you select menus and plan the layout of your meetings.  She will be available on the day of your event to be sure your setup is correct and will coordinate all activities with you.  When she is not in the office, Teresa is pursuing her love of God and music by teaching piano and voice, directing a church choir, and performing.
Lauren Conklin – Sales Manager
Email: lauren.conklin@morningside-inn.com
Lauren began at Morningside Inn as a college intern in sales.  She is now the Sales Manager and a wedding coordinator.
Shannon Stanton – Wedding Coordinator
Email: shannon@morningside-inn.com
Shannon is our most experienced wedding coordinator and has been coordinating weddings since 2000.  She has received many compliments and thank you letters from brides who appreciated her attention to detail and calm demeanor to handle any crisis with ease.